Triumph 765 Street Triple Rs -17/20- Stainless Steel Exhaust Manifold Delk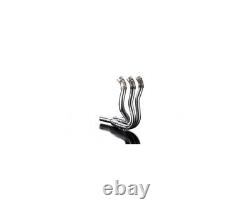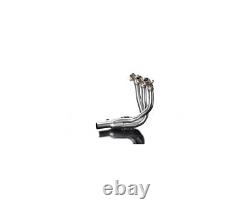 TRIUMPH 765 STREET TRIPLE RS - 2017/2020. NEW STAINLESS STEEL EXHAUST MANIFOLD. With a location for the lambda probe. Our exhaust manifolds are made of austenitic stainless steel which offers superior corrosion resistance compared to ferrous stainless steel, ensuring that your motorcycle continues to provide you with miles of service and pleasure.
The factory uses high-quality 1.5mm stainless steel tubes (304) for the main part of the exhaust manifold. These are formed using a machine with a mandrel to ensure uniform cross-section and dimensions, guaranteeing a perfect fit and performance. No new mapping is required as long as the motorcycle is on standard settings. The Manifold/silencer connection has the same position, diameter and angle as the original. Accepts the original silencer and any other silencer adaptable to the original fitting.
AGPL has shipped over 350,000 orders. Road Bikes, Scooters, All Terrain, Cross, Quads. Open since January 2004, AGPL Motorcycle Parts is a recognized specialist in the recovery of Motorcycle and the sale of new or used spare parts. Monday to Friday 9:30am-12:30pm // 1:30pm-6pm Saturday 9am-12pm.
Our products are shipped within 3 days with tracking number (a longer period will be specified on the product sheet). You have 14 days from the date of receipt of your purchase to return your package. All our products are new and authentic, or used from damaged Motorcycles/Scooters and checked in good working condition.
We are a registered company at RCS.