TRIUMPH 765 STREET TRIPLE -23/24 TANK COVER BAGSTER Black 1825U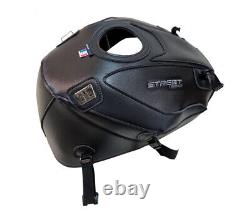 TRIUMPH 765 STREET TRIPLE - 2023/2024. BAGSTER TANK COVER - 1825U. Production in 48 hours / average delivery time 1 week.
Made to order, no returns for this item. This product is not only a mounting support for your bag, but also a covering that overlays your tank to protect the paint. Thus, the Bagster tank cover differs from other products commonly called tank mats, which only serve as a mounting support for bags.
The tank covers can be customized to match the colors and patterns of the motorcycle, making them discreet. Bagster has thus created a range of over 2,000 products available, suitable for the various colors of over 450 motorcycle models. AGPL has shipped over 350,000 orders. Road Bikes, Scooters, Off-Road, Motocross, ATVs. Open since January 2004, AGPL Motorcycle Parts is a recognized specialist in motorcycle salvage and the sale of new or used spare parts.
Monday to Friday 9:30 am-12:30 pm // 1:30 pm-6 pm Saturday 9 am-12 pm. Our products are shipped within 3 days with a tracking number (a longer delay will be specified on the product page). You have 14 days from the date of receipt of your purchase to return your package (see our terms and conditions of sale).
All our products are new and authentic, or used from damaged motorcycles/scooters and checked to be in good working condition. We are a registered company in the RCS.