Rapid Bike Electronic Quick Shifter Triumph Street Triple 675 2007-2012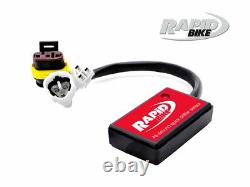 Rapid bike electronic quick shifter kit. Complete with specific wiring for your motorcycle model. The new electronics is able to communicate, via the can-bus line, with the evo and racing control units in order to perform the self-calibration of the intervention times according to the force exerted in both directions (compression or traction) and get in perfect harmony with the bike. The greater control of the handlebar and the lower mechanical stress allow to significantly improve driving safety.
A saving of about 20 milliseconds and a decrease in mechanical stress obtained, thanks to the exclusive \"self-learning\" process, for an immediate injection of power to the engine. This new accessory inherits all the qualities of the previous'all around quick shifter sensor', including compatibility with youtune for the management of the pressure exerted to activate the assisted shifting; always via youtune, an interesting function is added, such as modulating the reaction sensitivity of the engine when opening the throttle control. Simple and universal, the sensor can be used both in traction and in compression, to act on standard lifts and reversed traction through a very simple initial programming procedure. The pressure to be applied to activate the assisted shifting can be changed on the handlebar with youtune or via the rapid bike master software. The graph shows the progressive improvement from map to 0 (red line), after 50 km (green line) and after 200 km (brown line). Other exclusive features are the movement of the engine speed limit (up to 1,000 rpm) and the elimination of the speed limit. Rapidbike also evo supports the management of multiple maps, ie the possibility of setting and activating two sets of injection maps with different self-adaptive settings to \"change the carbureation\" with a switch. On twin-cylinder motorbikes it is possible to create a map and a specific self-correction set for each cylinder in order to further improve engine performance. By means of the software downloadable directly from the site, through the usb interface provided, the motorcyclist will be able to create his own maps and set new self-adaptive criteria whenever he deems it appropriate, in order to obtain the desired performance. The control and adjustment of the injection system with a single control unit, the rb evo, which acts simultaneously on the injection values and on the lambda probe signal, maintaining performance over time.
Equipped with male adapts (extension rods). Self-learning function for automatic modification of cutting times in order to optimize the time required for engaging the upper gear both in relation to the number of revolutions and the gear engaged.
Warning: this gearbox allows only the \"engagement\" of gear without clutch. The picture is only indicative. Pagamento in contrassegno: e'previsto per alcuni articoli. La scelta del corriere è a discrezione del cliente che puo indicare liberamente il vettore che intende utilizzare, la merce è a disposizione presso la sede wrs. Al fine di migliorare il servizio la wrs è convenzionata con i seguenti spedizionieri. L'assicurazione del pacco è facoltativa, nel caso non pit richiesta, il venditore non si assume responsabilità per lo smarrimento o il danneggiamento del pacco stesso. Il pacco viaggerà sotto la responsabilità dell'acquirente e il venditore sarà liberato da ogni obbligo dal momento della consegna al corriere. La vendita è assistita dalle garanzie per vizi e difetti previsti dalla legge. Ai sensi dellart 53 d. Lgs 6 settembre 2005 n 206, si cliente è un consumatore ha diritto di recedere dal contratto di acquisto per qualsiasi motivo e senza fornire spiegazioni. Per esercitare tale diritto, he cliente dovrà inviare una comunicazione scritta entro 10 giorni lavorativi dalla data di ricevimento della merce. Si provvederà alla restituzione dell'intero importo pagato (escluse le spese di spedizione) dopo aver accertato l'integrità della merce.
Per conferma scritta di tutte le condizioni contrattuali nonchè delle ulteriori informazioni di cui all'art. The formula \"soddisfatti o rimborsati\" prevede la sostituzione dei prodotti presenti nel pacco e non conformi alla descrizione, diversi dall'ordine o di colore sbagliato.
Il rimborso dell'importo avviene su semplice richiesta del cliente. Nasce dall'esperienza di professionisti del settore che hanno fatto della loro passione un lavoro, selezionando i marchi più prestigiosi attualmente disponibili sul mercato.
Wrs si occupiea inoltre di consulenza tecnica nel produrre i migliori abbinamenti per la vostra moto. Distributori ufficiali per l'italia.
Solo i migliori brand del mercato. The item \"rapid bike electronic quick shifter triumph street triple 675 2007-2012\" has been on sale since Friday, July 3, 2020.
It is in the category \"auto, motorcycle - parts, accessories-motorcycle accessories- electronics, navigation's other\". The seller is \"wrs-evotech\" and is located at/in cattolica. This item can be shipped to the following country: Europe.
coin number manufacturer: k27-sw-gear
mark: rapid bike