Puig Windscreen for Triumph Street Triple 2011 - Dark Smoke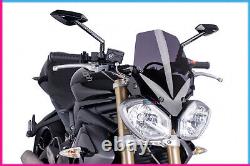 Aftermarket products are ONLY and EXCLUSIVELY compatible with the BASE vehicle configuration, and compatibility with original accessories or other aftermarket accessories is not guaranteed. IMPORTANT: The cost of customs clearance for shipments is entirely the responsibility of the buyer. Return requests must be submitted no later than 14 days after the arrival of the item. The product must be returned in "new" condition: no scratches, breakages, damages, alterations, or assembly marks, and the original packaging must also be returned, along with a copy of the shipping document.
Shipping costs are the responsibility of the buyer. TuningBike reserves the right to verify the status of the returned product and to decide, in case of attempted alteration or presence of damaged goods, the amount to be refunded. PUIG WINDSCREEN FOR TRIUMPH STREET TRIPLE-2011-SMOKED DARK.
PUIG WINDSCREEN FOR TRIUMPH STREET TRIPLE 2011 DARK SMOKE COLOR SPORT VERSION. Made from high impact MPPA methacrylate. Specific for each motorcycle model. No vehicle modifications are necessary to install.
Mounting kit and instructions included.