Mivv Triumph Street Triple 660 S 2018 Motorcycle Exhaust X-M5 Black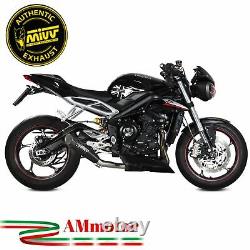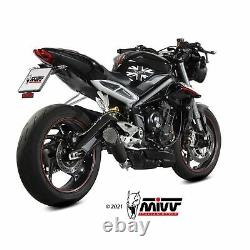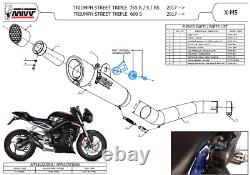 TRIUMPH STREET TRIPLE 660 S 2017 > CODE T. INCLUDES EVERYONE FOR THE ASSEMBLY. Designed to improve the aesthetics, sound, and performance of the bike, Mivv slip-on exhausts are the result of maximum attention to design, with the aim of satisfying those who want to distinguish themselves by the look of their motorbikes.
The Mivv X-M5 line, the result of the experience gained in the MotoGP and Moto2 World Championships, is the perfect synthesis between racing style and performance. With a design similar to the exhausts made for the World Championship, the X-M5 silencer has a conical shape and compact dimensions and is able to unleash the captivating MIVV sound. It is equipped with a 3K twill carbon end cap and with a removable protective grille that hides the dB-killer. The Black version features a central body in black 304 stainless steel with a "Black Moon" effect, a finish obtained thanks to a special ceramic-based painting process.
Always by your side at all times.