Hp Corse Evoxtrem 260 St Exhaust Pipe for Triumph Street Triple 765 2017-2023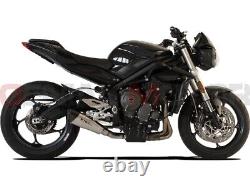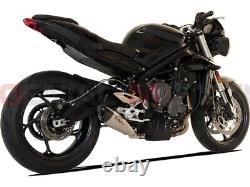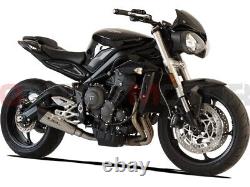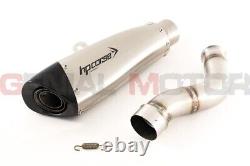 Hp Corse Evoxtrem 260 St Exhaust Pot Triumph Street Triple 765 2017 > 2022. Silencer design: EVOXTREME 260 SATIN. Description: Evoxtreme Satin single low exhaust (260mm line with carbon end cup) + Link Pipe for original TRIUMPH STREET TRIPLE 765 collectors (Non-approved RACING exhaust).
HPCORSE is an Italian company that, since 1993, has been able to create enthusiasm and innovation in the field of special motorcycle exhausts, always creating unique products appreciated worldwide. Steelform of Udine, a global leader since 1978 in metalworking and deformation, under HP Corse's license and design, produces all the parts of the different exhaust components, starting from the processing of the raw material (the tubes used are not commercial but internally profiled) until the finished product is achieved. HP CORSE is the beating heart, the place where new models are born, where ideas and projects come to life to become prototypes and, thanks to STEELFORM, reality.
EVOXTREME, HYDROTRE, GP-07, 4-TRACK, and others will soon be added to the "HYDROFORM" exhaust. Complete systems and special collectors.
The union between HP CORSE and STEELFORM, created following a great success called HYDROFORM, promises to become an absolute model of development in the world of special handmade exhausts in Italy.